Club MacStories Plan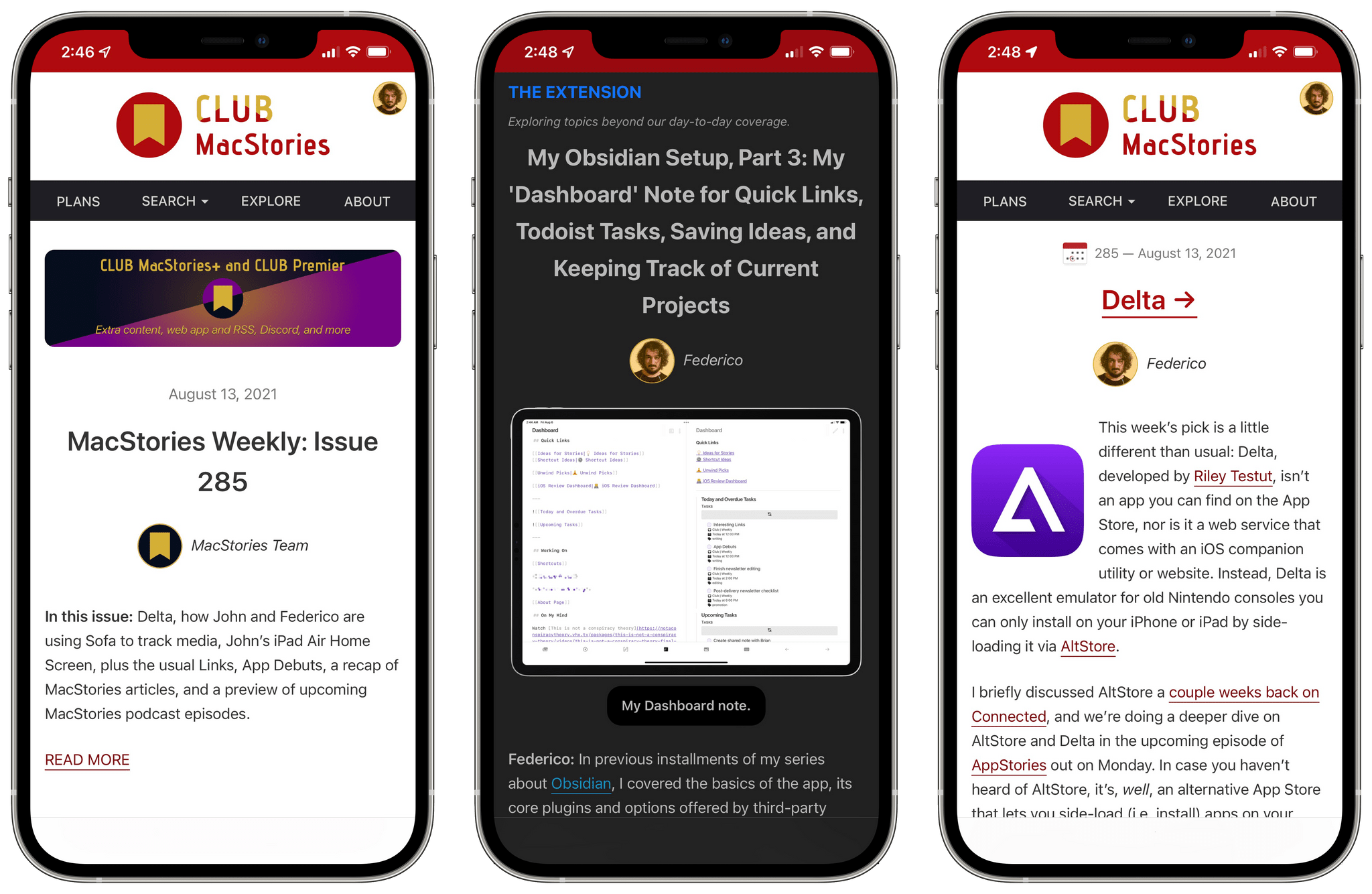 Launched in 2015, Club MacStories has provided members with more of the content they know and love from MacStories.net every week for the low price of $5/month or $50/year.
Among the many benefits of joining the Club are:
MacStories Weekly
A newsletter produced roughly 48 weeks per year that is packed with apps and gear recommended by the MacStories team, themed app collections, Shortcuts and other automation how-tos, tips, giveaways, longform essays, interviews with developers and other community members, links to interesting stories around the web, the best app updates and releases of the week, and a whole lot more. MacStories Weekly is available by email and on at club.macstories.net.
Monthly Log
A monthly newsletter published 12 times per year that collects longform stories from the MacStories team. Like MacStories Weekly, the Log is available to Club members via email or club.macstories.net.
MacStories Unplugged
A monthly podcast hosted by MacStories' Editor-In-Chief Federico Viticci and Managing Editor John Voorhees that features a discussion of what's going on behind the scenes at MacStories, articles we're working on, the gear we've been testing, and anything else that is on our minds.
Perks and Freebies
Club members enjoy perks throughout the year such as:
eBook versions of Federico's annual iOS and iPadOS review and other longform reviews published by the team
Wallpapers for mobile and desktop
Discounts on the MacStories Shortcuts Icons
Exclusive, time-limited discounts and giveaways of apps and web services throughout the year
---
With the introduction of the Club MacStories+ and Club Premier plans, the perks enjoyed by Club MacStories members have not changed.
In addition to everything listed above, Club members will also be able to browse entire past issues of MacStories Weekly and the Monthly Log in reverse chronological order using the Club's new web app, which is responsive and supports light and dark modes, keyboard navigation, and Dynamic Type on iOS.