Club MacStories offers exclusive access to extra MacStories content, delivered every week.
At $5/month or $50/year, you'll be able to enjoy some great perks:
MacStories Weekly. A weekly newsletter featuring our favorite iOS and Mac apps, tips and in-depth automation tutorials, exclusive stories, interviews, and more. A free sample is available here.
MacStories Unplugged podcast. A monthly show featuring a discussion of what's going on behind the scenes at MacStories, articles we're working on, the gear we've been testing, and more. Unplugged is based on standard RSS, so you can play the podcast in any player of your choice.
Monthly Log. A monthly newsletter with behind-the-scenes stories from the MacStories team, delivered towards the end of each month.
Discounts and free downloads. With a Club MacStories subscription, you'll also get access to an ongoing selection of exclusive perks, including:
eBook versions of longform MacStories reviews and Federico's iOS and iPadOS reviews;
Wallpapers for mobile and desktop;
Discounts on MacStories Shortcuts Icons.
Plus, we often feature limited-time discounts on Mac and web software, available exclusively for Club members.
You can sign up with Apple Pay, too.
In addition to extra MacStories content, you'll also get a chance to be an awesome reader who makes a direct contribution to the MacStories team. We think that's pretty cool.
MacStories Weekly
You can read a free sample issue of MacStories Weekly here.
The main perk of Club MacStories is MacStories Weekly, an ad-free newsletter delivered every Friday. It features the following regular sections:
Shortcuts Corner: Advanced shortcuts for the Shortcuts app, created and explained by Federico. In this section, we also try to help Club members with their iOS shortcut requests.
MacStories Recommends: A great app or service that deserves to be on everyone's iPhone, iPad, or Mac.
MacStories Collections: Our favorite apps, shortcuts, games, and more.
The Extension: A column that covers topics beyond our usual day-to-day coverage at MacStories.
Tip: Tips & tricks to get the most out of your devices.
Home Screens: Interviews with friends of MacStories about their iOS Home screens, watch faces, OS X docks, and menu bars.
Interesting Links: Great reads from around the web.
Weekly Q&A: Each week, Club MacStories members will be able to ask questions directly to the MacStories team. Questions can be about anything – apps, Apple news, productivity questions, Italian cuisine – you name it. We'll pick a few ones and respond in each week's issue of MacStories Weekly for every Club member to read.
App Debuts: The week's most notable app releases and updates.
Free Weekly Samples
You can read some free samples of MacStories Weekly content below:
Monthly Log
The Monthly Log is a second newsletter, delivered once every month. It'll offer reflections on the past month in Apple news and a collection of musings and notes on how we work and manage MacStories.
Think of it as a monthly journal on everything MacStories – a behind the scenes mixed with a personal productivity journal.
The Monthly Log will be delivered towards the end of each month and it'll be medium-to-long form, with original content exclusive to Club MacStories members.
MacStories Unplugged Podcast
As a Club MacStories member, you'll have access to the MacStories Unplugged podcast, released monthly. In this exclusive podcast, we'll take you behind the scenes of MacStories to learn more about what we're working on, the things we like, and what's going on in our lives. MacStories Unplugged can be added to any podcast player since it's based on RSS.
Discount on MacStories Pixel Products
As a Club MacStories member, you have access to an exclusive 15% discount on all MacStories Pixel products, including the Bundle edition of MacStories Shortcuts Icons and MacStories Perspective Icons for OmniFocus Pro.
You can view all Pixel products at macstories.net/pixel.
Access to the Full Archives
By signing up for Club MacStories, you'll gain full access to the complete archive of every newsletter we sent since September 2015. The archives are organized by year and contain links to view old newsletters in a web browser.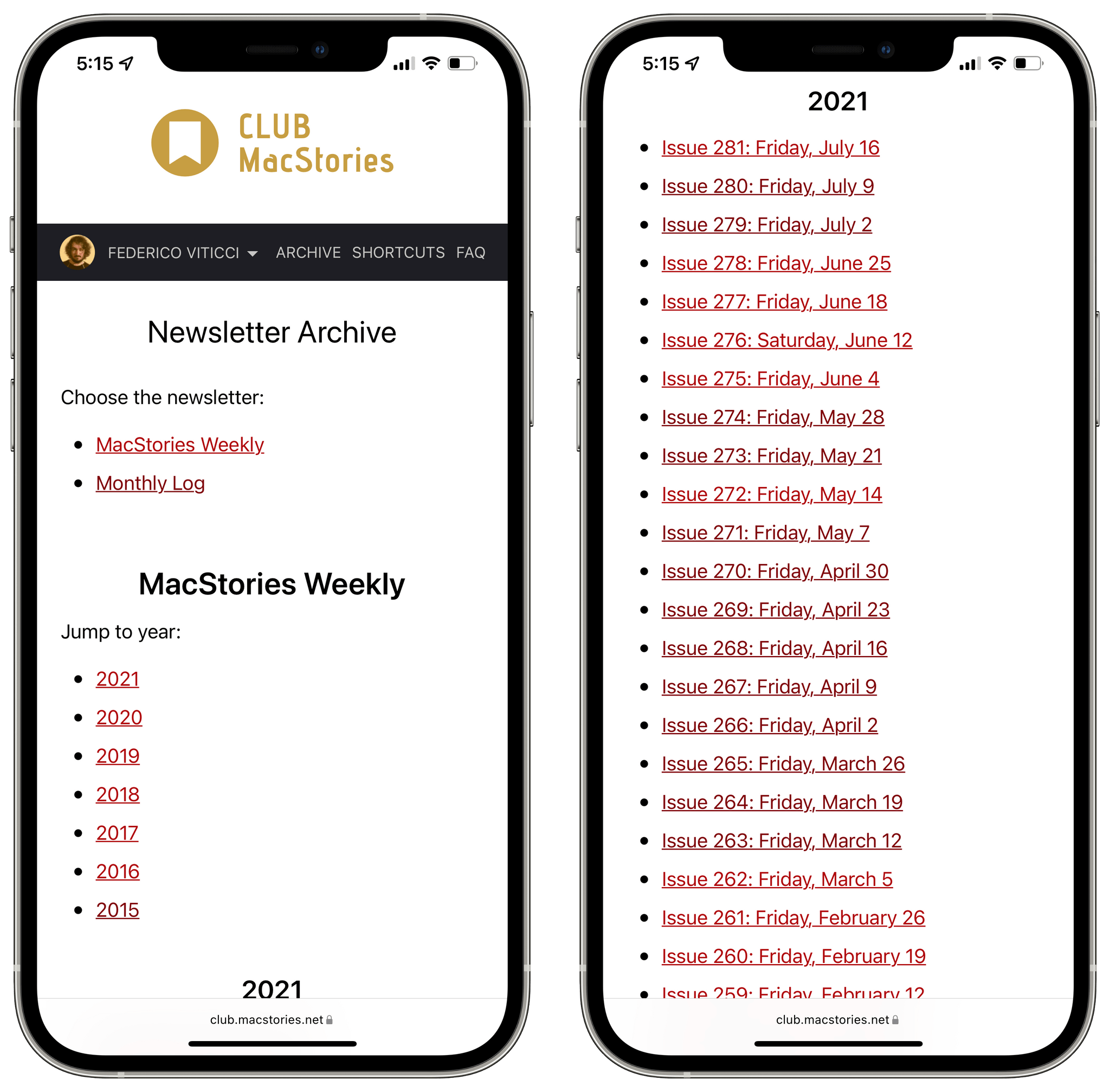 Other Discounts and Free Downloads
After 11 years of MacStories, we've gotten to know quite a few developers who are behind the apps and services we use every day. Occasionally, with their help, we'll offer discounts exclusively to Club MacStories members.
Additionally, our longer articles and in-depth stories are offered to Club members as eBook versions they can read in Apple's Books app and other EPUB readers.
Free downloads will be available in your Club profile under a 'Downloads' tab. Instructions for discounts and giveaways will be provided in MacStories Weekly or the Monthly Log.
More Information
For general questions on Club MacStories and subscriptions, check out the FAQ page.
If you're looking for the story behind Club MacStories, why we're doing this, and why we think this is a great complement to MacStories, read Federico's original announcement here.
Got feedback? Email us at clubfeedback@macstories.net.
Welcome to the Club
Since 2009, MacStories has delivered quality articles for the Apple community with a focus on depth, accuracy, and personal stories. Club MacStories is an evolution of our efforts, crafted with the same passion and care we put into the website every day.
If you love MacStories as much as we love making it, we hope you'll consider becoming a Club MacStories member. This isn't just about good feelings and supporting MacStories directly (although that's pretty great): you'll receive what we believe are useful, informative newsletters and perks on a weekly basis.